Known Information
Edit
Name: Hiramori 平守
Birthyear: Perennial 30
Hiramori is the Guildmaster
He is surrogate father to some of the Guild members, including Eian, Junne, Enya, and Nashiki
He has light green hair and red eyes.
His weapon of choice is probably a pitchfork - he has influenced Nashiki in this aspect
His kasa has 5 clasps, so he was/is 1st Seat of the Guild at some point in time.
There is a Talos emblem on his back.
The characters of his name means "peace" and "protection".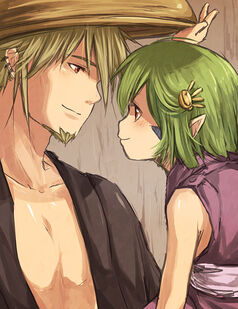 Ad blocker interference detected!
Wikia is a free-to-use site that makes money from advertising. We have a modified experience for viewers using ad blockers

Wikia is not accessible if you've made further modifications. Remove the custom ad blocker rule(s) and the page will load as expected.